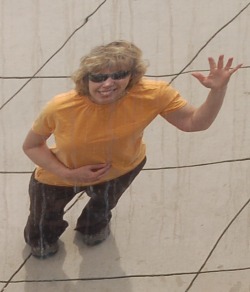 Hi! I'm Cathy Hayt, and I live on the edge of Purdue's Campus, in West Lafayette, Indiana. From this location, I enjoy photographing the Midwestern seasons, wildlife and anything else that comes my way....like dogs. A great picture of dogs playing, can't help but brighten your day. Happily, I'm also frequently called upon to photograph important things in my friend's lives such as their homes, art, music equipment and artistic endeavors.

Before I was an avid photographer, I loved working with wood. With the help of my father, I've put together a pretty decent wood shop which lets me bring to life all sorts of things. Some of my favorites include a lap steel guitar, amplifier cabinets and an assortment of wood, metal and glass wall hangings.

In 2013, I was asked to teach "fiber arts" at Benton Central Jr/Sr High School. Having almost no background in this area, the last year as been an absorbing journey into the world of natural fibers, spinning and weaving.

Mosaics also occupy a portion of my time. My most well received pieces are un-grouted mosaic fish made from iridescent tile on aluminum.
If something you've seen here sparks your interest, please contact me. I'd love to make something unique, just for you.





---